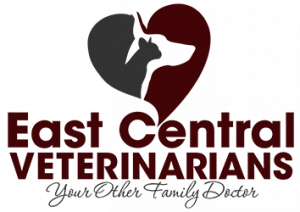 EUTHANASIA
We understand how difficult it is to make the decision to euthanize your beloved pet. We are honored to help you say goodbye and to make the experience easier and more comfortable for you and your pet. Thank you for trusting us with the care of your family member. Our greatest hope is that you will remember this as a peaceful passing and that your loved one was given a grace-filled goodbye.
Sincerely,
The Doctors of
East Central Veterinarians
PREPARING FOR YOUR PET'S EUTHANASIA
PREPARING FOR YOUR PET'S EUTHANASIA
How do I know when my pet needs to be euthanized?
This is one of the hardest decisions a pet owner makes.  We want to treasure the good days without letting our pet suffer.  As a pet parent, there may come a time when it is necessary to assess their comfort level. Along with guidance from your veterinarian, reviewing the quality of life assessment can help determine if your pet is still living a good quality of life.
Where do I want the euthanasia appointment to occur?
Many people choose to say goodbye to their pet at their veterinarian's clinic.  We strive to make this difficult day go as smoothly as possible for both you and your pet.  Depending on the weather we are able to accommodate the request to have the euthanasia appointments occur outdoors.  If you would prefer an outdoor appointment, please let us know when scheduling the appointment so we can accommodate your request.  Some people choose to say good-bye at their homes.  At this time we are not able to offer at-home euthanasia services but we recommend contacting Pet Loss at Home, Blue Skies Pet, or MNpets.
What should I do with my pet after euthanasia?
Knowing beforehand what you want to do with your pet will save you from having to make that decision afterward while you are going through the grieving process. It is helpful to make these decisions ahead of time with your family. Pet cremation is one of the most common options available today. You can choose to have your pet's ashes returned or not.
If you choose to have the ashes returned, they are collected and placed in an urn or specially designed box for you. You then have the choice of keeping, burying or scattering the ashes in a special place. If you choose to keep the ashes there are many beautiful urns available to memorialize your pet. If you are considering burying your pet, please know that most ordinances and regulations prohibit it.
What urn options are available?
You have the choice of five different urns as part of the individual euthanasia service.  Your pet's ashes will be returned in the Acadia box with an engraved name plaque unless you indicate otherwise.
Woodchuck
Sheesam
Tree of Life – available in oak or walnut colors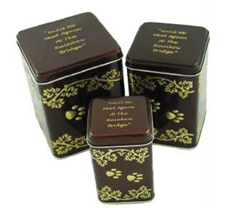 Decorative Tin – this is nice if you are planning on spreading the ashes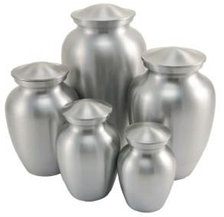 Metal Urn
For more options on urns and memorials, please review our complete catalog.  If you desire, we can have ashes returned in an urn and have some used in creating jewelry or glass memory keepsakes.  If you have multiple people who want ashes, the ashes can be placed into multiple urns.
WHAT TO EXPECT THE DAY OF EUTHANASIA
Scheduling the appointment – When scheduling, we schedule to ensure time can be dedicated to you and your pet. This also gives you more privacy with fewer people around during your time of grief. If you are unsure if it is time to euthanize your pet, we can start with a quality of life assessment appointment.
Fill out the paperwork – The law states that owners must give written, signed consent for any euthanasia procedure performed on a pet and confirmation that the pet has not bitten anyone in the past ten days. We will also need to know the aftercare you want for your pet. Making the decision about aftercare prior to the procedure is highly recommended so you can think about your options. For example, choosing to get your pet's ashes back in a special urn.
The Procedure – We start by administering a sedative medication. This helps to ensure your pet is peaceful and does not experience pain. This medication takes 5-10 minutes to take full effect.  At this point, your pet will be very relaxed and maybe sleeping.  When you are ready, the final injection is administered, this is a high dose of an anesthesia drug that will cause the heart to stop and your pet will pass without experiencing pain.
After euthanasia, you will have three options:
Individual Cremation
Your pet's body will be taken to our trusted cremation service center. Once your pet's remains have returned to us we will call you to let you know that you can pick them up. This process usually takes 7-10 days.
Communal Cremation
Your pet's body will be cremated, with no remains returned.
Home Burial
Each city has ordinances that regulate home burial. We recommend burial at least 3 feet deep. Consider burial with a note or a much-loved toy.
BEREAVEMENT SUPPORT
Often, our pets are much more than just pets – they are family, friends, sidekicks, and teammates. Experiencing the loss of a pet is a very personal and individual thing. It can be surprisingly more challenging and painful than we expect.
Grieving the loss of a pet can occur on a physical, emotional, behavioral, cognitive, and spiritual level. It can be exhausting. Our hearts feel broken, our minds alternate from confusion to guilt. We spend a lot of time asking "could I have done something better or different?" These feelings are all normal.
Depending on your comfort level, there are many ways to express your feelings. Some ideas are to:
Write about your loss in a journal.
Write a private letter to the pet you lost.
Create a memorial in a frame (or via your personal social media page.) These memorials can include pictures or videos of your pet, your pet's identification tags, and/or an urn containing your pet's ashes if you opted to have the ashes returned to you.
Use a portion of their ashes to be made into a pendant or jewelry.
Plant a tree in honor of your pet.
Make a donation to or volunteer your time at a local organization of your choice.
While friends and family members can offer support, they may not understand the sensitivity of your grief and can unintentionally react in a way that leaves you feeling hurt. There are other ways to acquire the support and comfort you may need at this time. Many seek comfort through local animal grievance support groups or through a pet loss support hotline. It is healthy and even encouraged to talk about the life you shared with your pet as this is an important part of your healing process.
PET LOSS GRIEVANCE SUPPORT RESOURCES
COMPANION ANIMAL LOVE, LOSS & MEMORIES (CALLM) The University of Minnesota Veterinary Medical Center (VMC) offers a bereavement group to support those grieving the loss of a beloved animal. CALLM provides attendees with a supportive and confidential environment in which to share their story. Sessions are free. For more information call VMC Social Work Services at 612.624.9372
ANIMAL EMERGENCY & REFERRAL CENTER OF MINNESOTA PET LOSS SUPPORT GROUP The group meets at the Oakdale location. For more information please call 651.501.3766
THE ANIMAL HUMANE SOCIETY OF GOLDEN VALLEY PET LOSS SUPPORT GROUP The support group is led by compassionate facilitators and is provided to the public for free. For more information, visit www.animalhumanesociety.org/services/pet-loss-support-group
VETERINARY WISDOM FOR PET PARENTS www.veterinarywisdomforpetparents.com
THE AMERICAN SOCIETY FOR THE PREVENTION OF CRUELTY TO ANIMALS (ASPCA) PET LOSS HOTLINE www.aspca.org/pet-care/pet-loss
TUFTS PET LOSS HOTLINE 508.839.7966 http://vet.tufts.edu/petloss/
RECOMMENDED BOOKS FOR ADULTS
A Dog's Purpose by W. Bruce Cameron
Saying Goodbye to the Pet You Love: A Complete Resource to Help You Heal by Lorri A. Greene, Ph.D. and Jacquelyn Landis
RECOMMENDED BOOKS FOR TEENS AND CHILDREN
Goodbye Friend, Healing Wisdom for Anyone Who Has Ever Lost a Pet by Gary Kowalski
Healing Your Grieving Heart 'For Teens:' 100 Practical Ideas by Dr. Alan Wolfelt
Saying Goodbye to Your Pet: Children Can Learn to Cope with Pet Loss by Marge Eaton Heegaard
COMMON QUESTIONS
Is euthanasia painful?
No. The only discomfort felt by the animal might be the insertion of the needle or catheter into their vein.
Is euthanasia instant?
Euthanasia solution generally produces unconsciousness within minutes and sometimes seconds. Your veterinarian will listen for a heart-beat using a stethoscope and pronounce the pet deceased when the heart stops.
What can I expect to see happen as my pet passes?
When the animal passes away, there are specific events and signs that you might witness. The animal may display intermittent gasps after the heart has stopped because the diaphragm of the animal contracts spasmodically as the animal's brain and muscles are shutting down. The animal may also urinate and/or defecate. The most important thing to remember is that these events are normal and are not painful for your pet.
Will my pet's eyes close?
A pet's eyes usually remain open after it has been euthanized.
What do I tell my kids?
This may be your child's first experience with loss and feelings of grief. This could be a good opportunity for you to teach your child to accept and express his/her feelings in healthy ways, free of expectation and embarrassment. While it is tempting to try to protect your child from emotional pain, telling your child that the pet ran away or went to live with someone else could invoke feelings of abandonment and rejection. It is best to be as honest as possible with your child.
Will my other pets at home sense this loss too?
Research shows compelling evidence that your other pets can sense the loss of another. In addition, your pets will often pick up on your emotions. Understand that during this time of loss and grief, your other pets may need extra attention and comfort as well. Signs that your other pets may be experiencing grief can include, but are not limited to:
Increased desire for attention
Separation anxiety
Decreased eating/drinking
Increased vocalization
Increased sensitivity to noise
Searching for the missing pet
Some animals to seem unaffected by the absence of a pet and that is completely normal. Treat these animals just as you always have.
Pets that are grieving and showing obvious signs of loss can be given special attention through extra pats and rubs, walks or time outdoors, and appropriate treats to encourage their appetite. Even giving them a blanket with the deceased pet's scent on it may bring comfort.
NOTE:
It is important to be conscious of the duration and intensity of comfort giving, as animals are quick to adapt to this special attention. Too much of this can reward and develop unwanted behavior. For example, giving treats each time the pet vocalizes or becomes restless will encourage that behavior.
Keep a close eye on elderly pets. Decreased appetite and thirst is far more serious in elderly animals and can cause life-threatening issues.
Be aware of the changes in your animal hierarchies, especially dogs, that may occur following a pet's passing. If the deceased animal was a dominant animal, you may notice an increase in aggression with your remaining pets as they compete for status and dominance in their new arrangement. Talk to your veterinarian about these behavioral changes should they occur.